Mary, Daughter of Jacob and Nancy Christlieb
Mary was Jacob and Nancy's first-born child. She was born on 31 January 1780, in Cumberland County, Pennsylvania, as seen in the old birth record below. Mary was born during the time when her father was serving in the American Revolutionary War and was about three years of age when the family left Cumberland County for Northwestern Virginia.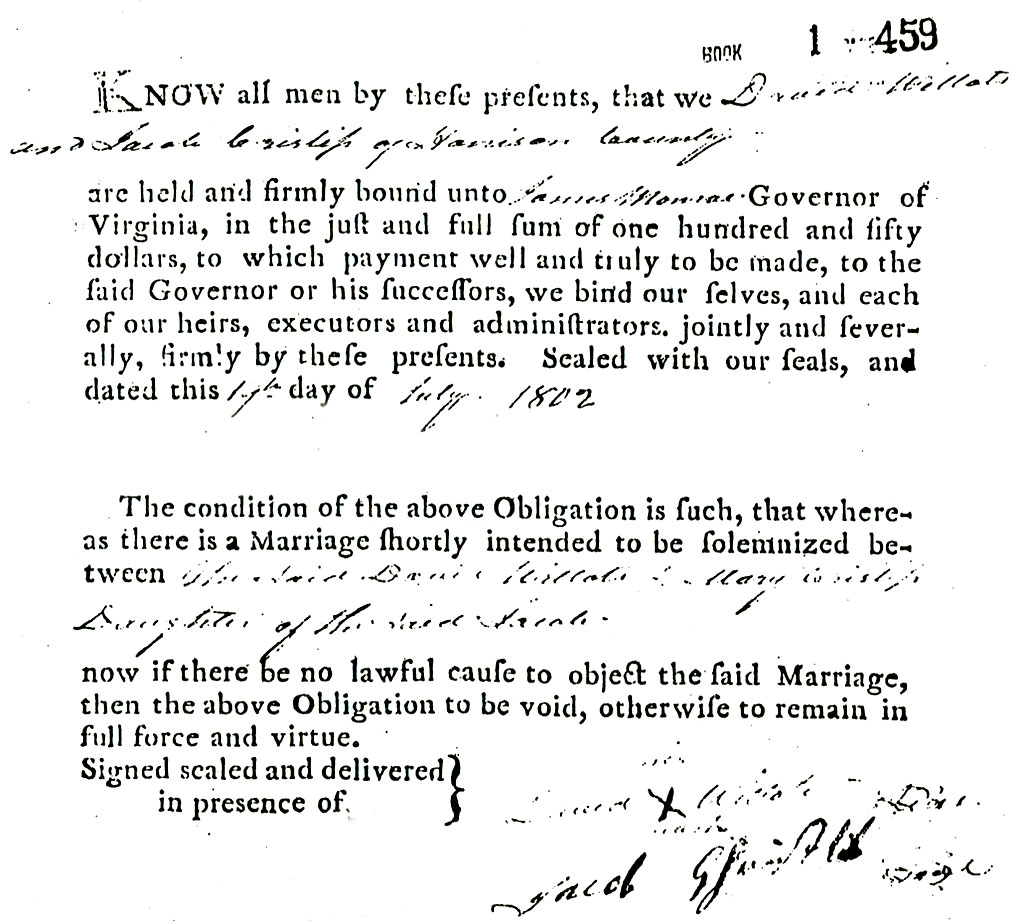 Harrison County Marriage Bonds, Book 1, p.459.
Mary was 22 years old when she married David Willett on 20 July 1802. Born in 1760, David was 42 years old at the time of his marriage to Mary. A facsimile of the marriage bond dated July 19th and signed by Jacob Christlieb and David Willet is shown above.
"Some unverified sources report that David Willett/Willet was a widower with a son, when he married Mary Christlieb/Crislip. The son, Edward Willett, was born ca. 1800. The 1810 Federal Census supports this statement. The report shows two male persons under the age of ten years in the Willett household. Edward Willett lived a short life. After marrying Susannah Neale on January 6, 1820, he died the following year of some unknown cause. Susannah remarried two years later on September 28, 1822 to John Turner."

"David and Mary Crislip Willett had two children who lived to adulthood and others who died in childhood. The 1820 Federal Census lists three persons under age 16 in the Willett household with Mary Willett as the Head of Household. Her husband, David, died in 1817." Wendell F. Lauth, Bristolville, Ohio.
When Jacob Christlieb drew up his will in 1821, he bequeathed Mary $10, a respectable amount of money at that time. At this point in time, Mary had been a widow for four years with the responsibility of bringing up several children.
Mary married widower, Arthur Hickman, on 13 January 1838. Arthur Hickman was born on 7 April 1771 at Nutter's Fort in Harrison County, Virginia. He had been married twice previously – to Mary Nancy Cottrill and Jane Parker. Arthur Hickman died on 20 March 1856 in Barbour County and was buried in the Picken's Cemetery.
Mary died in 1870, at 90 years of age. Of the fourteen children of Jacob and Nancy Christlieb, Mary's life was the longest.
Mary and David Willett are buried in what is now called Trinity Methodist Church graveyard, located on the Brushy Fork Road about five miles east of Anmore in Harrison County, West Virginia. Their tombstone reads MARY HICKMAN, WIFE OF DAVID WILLETT, DIED JANUARY 1870, AGED 90 YEARS, 3 MONTHS, 10 DAYS. David's portion reads DAVID WILLETT, DIED JANUARY 1817, AGED 50 YEARS. Thus, his birth would have occurred in 1767. Cemetery records report that David Willett was the first person buried in the cemetery.
A somewhat conflicting report of Mary's death, as recorded in the Barbour County Courthouse reads, "Mary Heickman [Heckman], wife of Arthur Heickman, died on May 10, 1870, in her 91st year, according to information supplied by her daughter." The birth date traditionally given for Mary, as recorded by B.F. Christlieb, agrees with the tombstone inscription.
Carved on two sides of their marker are the birth and death dates for Jacob and Nancy Christlieb's first-born child, Mary, and her husband, David Willet. Mary's inscription is shown on the left.
Children of Mary Crislip and David Willett
Sarah Willett (Friedrich Carl Christlieb1, Jacob Christlieb2, Mary Crislip3) [121], born ca. 1817; married, 31 August 1835, Salem Williams.

David Willett (Friedrich Carl Christlieb1, Jacob Christlieb2, Mary Crislip3) [122], born 1809; died, Rush Township, Champaign County, Ohio, between the years 1851 and 1860; married, 2 December 1830, Elizabeth Ann Rogers of Champaign County. Her family had settled in Ohio in 1805. David and Elizabeth Willett were the parents of ten children. Some of David Willett's grandchildren migrated to Union County, Ohio, during the 19th century.