Nancy, Daughter of Jacob
and Nancy Christlieb
1790–1877
Nancy was the eighth child of Jacob and Nancy Christlieb. Nancy was born 31 October 1790, as seen in an old family record below. Nancy is believed to have been born in Hampshire County, Virginia.
At age 23, Nancy married, 1st, Jacob Ours in the summer of 1816, as evidenced by the couple's marriage bond. Indexed in Harrison County records under the spelling Creslip, it contains the signatures of her future husband, signed with an "X," and her father, Jacob Christlieb, who signed his name in old German script. The document is dated 4 July 1816.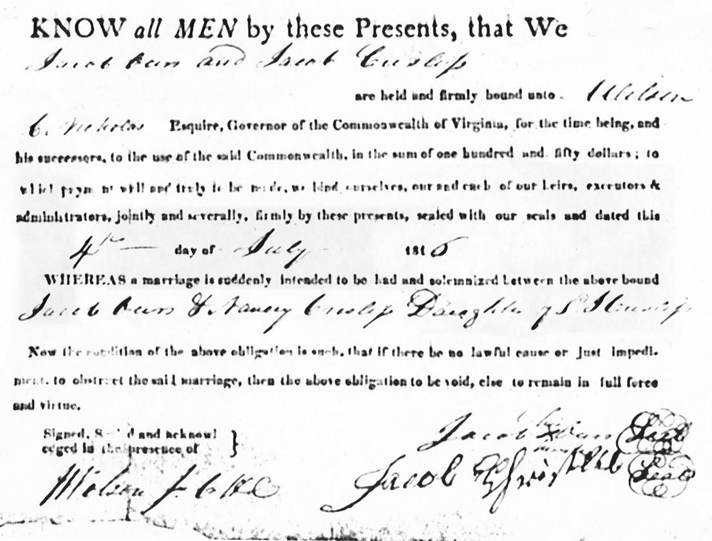 Harrison County Marriage Bonds
Her husband, Jacob Ours, was born 29 December 1796, in Hardy County, (West) Virginia. He was the eighth of 13 children born to Sigmon and Mary (Simon) Ours.
Jacob Ours is believed to have died at some time prior to 1821, about the same time that his father-in-law, Jacob Christlieb, wrote his last will and testament. It is evident from the will that he wished to provide for his grandson, William Ours. It is not known if Jacob Christlieb ever obtained guardianship of William, as he had James O'Conner, the only child of his deceased daughter, Catherine.
Nancy died on 28 September 1877. Her age at the time of death was 87 years, 11 months. A notation on her death record gave "Nancy" as the name of her mother. Her mother, Nancy Singer Christlieb died ca. 1824. Barbour County Death Record Book 1, p. 53.
Children of Nancy Crislip and Jacob Ours
Mary Ann Ours (Friedrich Carl Christlieb1, Jacob Christlieb2, Nancy Crislip3), born 14 February 1819; married David Willett about 1841. They lived in the Philippi district of Barbour County, Virginia. Born 20 November 1819, David was the son of Elwin and Elfreda Willett. Mary Ann and David had a family of eleven children. According to the Barbour County death records, David Willett died of pneumonia on 27 June 1886, at age 66 years, 7 months, 7 days, as reported by his widow, Mary Ann. David's place of burial in the Philippi area is unknown. In later years, Mary Ann Willett lived with her youngest daughter and family near Parsons, Tucker County, West Virginia. She died 9 November 1901, and was buried near her daughter in the Bethel Cemetery, which is also known as Holly Meadows Cemetery, north of Parsons. Barbour County Book of Deaths, Vol. 1, p. 92.

William N. Ours (Friedrich Carl Christlieb1, Jacob Christlieb2, Nancy Crislip3), born 26 April 1822, in Lewis County, Virginia, where he spent his early years. He moved westward to Prairie Township, Kosciusko County, Indiana. There, he married Eliza Ann Goodale, daughter of Joel Goodale, on 2 December 1849. Eliza Ann Goodale was born in Lavonia, New York, on 15 October 1826. In 1864, William and Eliza Ours located on a farm near Kewanee, Henry County, Illinois. They had a family of eight children. One child died in infancy. Another died at age 7. William N. Ours died 10 September 1906, in Kewanee, Illinois. His wife, Eliza, died 3 December 1911. Both are buried in the Wethersfield Township Cemetery.